Bike & Easy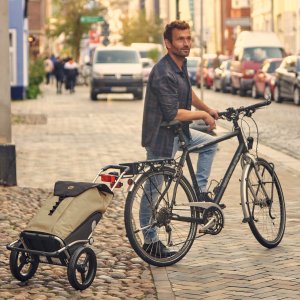 More and more people are switching from cars to bicycles in everyday life and are recognising the bicycle as a practical means of transport for getting to work or shopping. The mobility shift away from the car to the bicycle is not only an issue for urban mobility. In rural areas, too, more and more people are using bicycles or e-bikes, thus ensuring a liveable environment. For over 20 years, we have been supporting an environmentally friendly mobility shift by also offering our Shopper® for use as a Shopper® on a bicycle. The Shopper® can be quickly coupled and uncoupled via a specially developed coupling system consisting of a coupling and coupling pin. The use of the Shopper® as a bicycle trailer has a significant advantage over conventional cargo bikes or Cargobikes. The bicycle can still be used flexibly as a means of transport and the luggage carrier remains free for the use of child seats or bicycle bags. Since the bag and wheels can be easily removed from the Shopper®, it can be easily stored when not in use.
Two components for attachment to the bicycle
Our coupling systems are designed to fit as many bicycle types as possible.
To attach a Shopper® to a bicycle, you need 2 components: