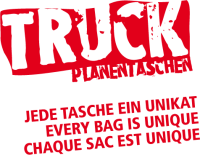 You find trucks everywhere in Europe. Their tarpaulin covers provide the perfect material for bags : unusual, hard wearing and resistant.
Every bag is unique, because it is handmade in Switzerland out of used truck tarpaulin.


Sail canvas bags
The 360° bags consisting of recycled sails have been around on all oceans of the world- no matter if wind or storm, if small or tall boats. Very thoroughly and with lots of lovely details made, the bags now start their second life. Every bag of tough and water repellent sailcloth is unique and provides information about the boat and the trip once sailed on a little label inside.