A trunk for the bike
Family - Leisure - Shopping
The Anderson Shopper®, attachable to your bike, offers a clever transport solution during family or leisure excursions and shopping trips. Similar to the trunk of a car, the bicycle rider gets additional storage space while the storage rack of the bike itself remains free with almost all couplings for shopping baskets or child carriers.
Of course, the Shopper® can also be used without the bike. The simple and easy handling of the coupling system, lockable if needed, allows the quick coupling and decoupling of the Shopper® If not in use, the bag and wheels can be easily detached, and the Shopper® folds up into a small package.
The coupling head (the link between the bicycle and the Shopper®/trailer)
The coupling head has been modified and now has a so-called torque support, which allows it to prevent the Shopper® /trailer from tipping over.
Coupling studs for your Shopper®
Coupling studs SH-1 (previously extension set) and SH-2 (new, suitable for Shopper® with the 3-way system handle) fit the new coupling head.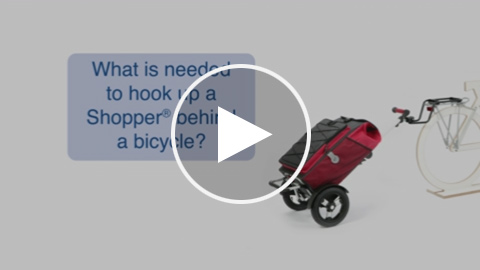 Couplings for the bike (the connection to the bike)
Coupling G1-PullEasy:
can be attached to many independent, stable luggage carriers
also suitable for many pedelecs/e-bikes
Coupling A2-RT Roll-it:
fits Racktime carrier with Snap-it system (wide version, 120 mm)
also suitable for many pedelecs/e-bikes
The couplings R1-BigEasy (previously BigEasy) and A1-EasySnap® (previously EasySnap®) remain unchanged; however, they are equipped with the new coupling head.